Immersed steel, aluminium, stainless, bronze: electrolysis and corrosion are permanent threats for your boat

Galvatest detects electrolysis before it is too late...
and wishes you a happy new year 2018!
UNDERWATER CORROSION AND PAINT BLISTERING
Afloat 'corrosion potential' control of immersed metals is probably the most misunderstood though the most essential maintenance operation performed to keep sailing capabilities and financial value of a small ship. It reveals unwanted electrolysis, wherever it comes from. It is a quick, reliable and easy practice, performed with the suitable equipment, which check anodes efficiency and guarantee the integrity of the onboard electrical systems*. Indeed, electrical leakages significantly alter potentiel upwards (metals corrosion) or downwards (paints bubling). Galvatest develops techniques and systems about cathodic protection control and monitoring including leakage currents detection for small boats, thus preserving you from costly repairs...
Galvatest round the world with Energy Observer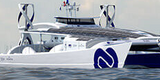 Galvatest ensures anti-corrosion control of metallic immersed equipments of Energy Observer, the first hydrogen powered boat round the world. A useful task if we consider the important quantity of energy and many electrical circuits available on board...
Follow on
www.energy-observer.org
Steel or aluminium metal hulls
Metal hulls made of steel or aluminium are primarily concerned by electrolysis and the regular control of their corrosion potential. Such control is conducted in "real time" on all big ships and is an integral part of formal ABYC (American Yacht and Boat Council) recommendations for all recreational boats in aluminium. Be very careful with your hanging anodes : if they are made of magnesium at sea, they will be likely to destroy your immersed paint work.
Wood or polyester (GRP) hulls
Unlike metal hulls, wood or polyester hulls (GRP) do not carry electricity. Thus, propulsion systems, particularly S- or Z-drives, are very concerned by Galvatest control. Their carters are made of very conductive aluminium which stands as a primary route for on board or ashore stray currents seaking to travel through the sea...
They did not die all, but all were struck!
40 mA received during 30 days will definitely destroy 10 g of aluminium... And because it is a natural phenomenon, your boat did have, have or will have corrosion problems! Don't wait, act now! Consequences of corrosion – often costly – are never covered by insurance companies. Have a look at simulated consequences of a 1 A current leak received through an aluminium sail-drive during 100 days, page Demo & Cases.

Regular control of metal hulls and immersed equipments corrosion potential is a recommended practice of international standards and major boat and equipment manufacturers. All our electrodes sensors are individually tested. Patented technology. Galvatest is a member of F2N: Filière Nautique Normande.
www.galvatest.fr en français

FREE

The original comic strip "How goes your boat?"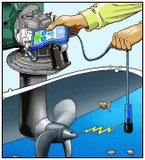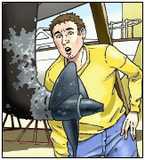 To understand quickly and without painful headache, download our explanatory comic strip. You will learn, with just a few pictures, how to use Galvatest to assess instantly cathodic protection level given by anodes, and if harmful stray currents are eating your boat.
The White Paper about cathodic protection...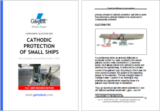 With White Paper about cathodic protection published by Galvatest, you will learn all you ought (or wish) to know about galvanic and electrolytic corrosion phenomenons affecting small recreational or working boats.
INFO


What certification bodies say...
Downloadable documents
To access downloadable documents and informations, we thank you for prior indicate your e-mail adress below (internal use only):